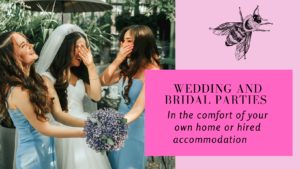 Pre Wedding Pampering – For the bride, Bridesmaids & Mother Of The Bride
It's the night before your wedding , all your careful organising is now complete. It's all about you, and you deserve some pampering be it on your own, with your bridesmaids or a catch up with mum.
Our team of mobile massage & beauty therapists In Essex, Kent & London will come to you and create a sense calm and relaxation, providing soothing & relaxing treatments including massage, facials , manicure and pedicures.
Revive  – From £15
15 minutes of treatment time. Treatments can be mixed and match from the list below
Serenity  – From £30
30 minutes of treatment time. Treatments can be mixed and match from the list below
Tranquility – From £40
45 minutes of treatment time. Treatments can be mixed and match from the list below
Calm  -From £50
60 minutes of treatment time. Treatments can be mixed and match from the list below
Harmony -From £60
75 minutes of treatment time. Treatments can be mixed and match from the list below
Peace – From £70
90 minutes of treatment time. Treatments can be mixed and match from the list below
Manicure & Pedicure- From £25
Express Manicure/ Pedicure £25 File , Buff , Shape , Cuticle Work , Massage,  Paint . Gel or nail polish available
Spa Manicure/ Pedicure £35 File , Buff , Shape , Cuticle Work , soak, scrub , Massage,  Paint  . Gel or nail polish available
15 Minute Treatments
Shoulder Face & Scalp Massage
Hand and Arm or Leg & Foot Massage
Indian Head Massage (seated)
Back Neck & Shoulder Massage
30 Minute Treatments
Back, neck and shoulder Massage
Maternity back neck & shoulder massage
Reflexology
Shoulder, face & scalp massage
Indian Head Massage (seated)
Foot & Leg Massage
Express Facial
45 Minute Treatments
Back, neck and shoulder Massage
Full Body Massage
Maternity Back & Neck & Shoulder
Maternity Full Body Massage
Reflexology
Shoulder, face & scalp massage
Indian Head Massage (seated)
Rejuvenating Facial
60 Minute Treatments
Full Body Massage                                   Reflexology
Maternity Full Body Massage
Ultimate Facial