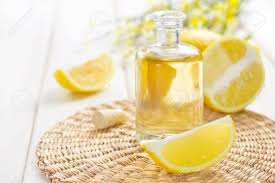 Lemon is one of my all-time favourite essential oils .  I love its fresh & Happy vibes . A citrus top not  scent with a Astringent and cleansing properties. You may find if you diffuse lemon essential oil  its has many emotional benefits . It is incredibly refreshing, uplifting and clarifying . You may also it helps relieve headaches .
Naturally cleansing, Lemon Essential oil  antiseptic and astringent properties make it a popular choice to incorporate into household cleaning
Lemon blends well with Rose, Lavender, Black pepper ,  Sandalwood, Benzoin, Eucalyptus, Geranium, Fennel, Juniperberry, Mandarin , Neroli and Elemi . 
Here are some of my favourite recipes 
Face Oil – Rosehip, Buckthorn & Lemon 
Exfoliating Face Oil –  Rosehip, Buckthorn,  lemon essential oil , & Jojoba Beads
Hair Oil –  Argan oil , Sesame oil,  Ylang Ylang Essential Oil & Lemon Essential oil 
Face Mask – Fuller's Earth clay , Rose Water & Lemon oil 
Fuller's Earth clay also known as Multani Mitti
Body/Massage Oil – Lemon, Eucalyptus & Black Pepper  
As with all essential oils we recommend not using during pregnancy unless receiving treatment from a fully qualified and insured aromatherapist.  
Honey Bee Therapy Is own by a qualified aromatherapist in Essex offer mobile massage therapies & pamper parties