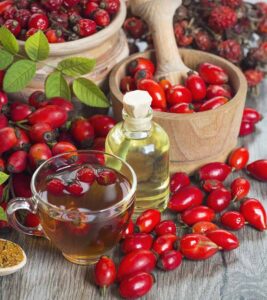 Rosehip oil is extracted from the seeds of the rose plant. It has had a surge in popularity in the last few years and I believe it to be one of the best oils for anti-aging and skin rejuvenation.
Rosehip Seed Oil is rich in antioxidants ,omega 3 essential fatty acids and contains vitamins C, E .It is an oil which is great when used on its own and doesn't require the addition of essential oils to enhance its performance. However there in no reason why you cant add essential oils
I advise my pregnancy clients to use Rosehip to help with stretch marks. It is one of best oils to use in pregnancy and I often use it in my maternity treatments . New mums can continue to use rosehip in the affected areas after birth
Rosehip Oil for the Hair
Excellent for dry, flakey scalp & damaged hair .Massage directly into the scalp and then follow through to the ends of the hair for a deep conditioning treatment . Leave overnight for the best results.
Rosehip Oil for the facial skincare
Great for mature and dry skin types , you can incorporate Rosehip into your skincare routine and use as a oil cleanser and moisturiser.
As a cleanser apply a small amount into the palm of your hands and gently massage over the face and gently wash off with a cloth soaked with warm water
As a moisturise apply twice a day after cleansing and massage until its absorbed into your skin. Rosehip Seed Oil can be helpful to reduce skin issues like eczema, acne or fine lines.
Rosehip Oil for the body
Massage directly onto skin and perform circular motions until absorbed. Can be used after bathing.
Aromatherapist & Pregnancy Massage Therapist Top Tip
Great for use in pregnancy as a stretch mark treatment oil. If you use Rosehip oil alone it does have a bit of chip fatty smell and therefore recommend you blend with Sweet Almond, Sea Buckthorn or jojoba .